The Health of Hemp: From the Seed to the Snout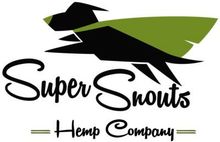 Super Snouts is an old school, down to earth, grassroots company owned and operated by people who truly love dogs! the company rigorously source the best raw materials in each of the handcrafted products so you will feel safe and confident feeding these products to your pet.
Consumers should be conscious about what they buy for their pets. There are many choices for the discerning pet owner in today's highly competitive pet food industry. There are also many choices that the food/treat companies can make when manufacturing products that ultimately end up in the mouths of your companions.
Super Snouts have spent upwards of 20 years in the retail sector of the pet industry. Having seen it all… from slop to super premium, marketing schemes to create intentional consumer confusion, and the kiss of death (literally), non domestic low grade material sourcing.
Taking this eye opening education using it in every decision made during rigorous endeavors to bring your pet the best and safest treats and supplements possible. Always putting your pet before profits. You will never see any fillers, preservatives, confusing ingredients or synthetic materials in these products. Super Snouts will not use delusive marketing tricks to get your purchase.
Pet Supplements
ISO-150MG 99%+ PURE ISOLATE, ISO-300MG 99%+ PURE ISOLATE, PHYTO-90MG FULL SPECTRUM, PHYTO-150MG FULL SPECTRUM, PHYTO-300MG FULL SPECTRUM, PHYTO-600MG FULL SPECTRUM, PHYTO-300 NANO-SIZED MICRO-EMULSION PLATFORM GEL CAPS 10MG, PLAIN+JANE 5MG HEMP CHEWS, IMMUNE+SUPPORT 5MG HEMP CHEWS, CHILL+OUT 5MG HEMP CHEWS, HEMP+JOINT 5MG HEMP CHEWSPLAIN+JANE 5MG 6 CT, IMMUNE+SUPPORT 5MG 6 CT, CHILL+OUT 5MG 6 CT, HEMP+JOINT 5MG 6 CT.
Come visit our animal feed & supply store in Waterloo, IA specializing in quality food and supplies for all animals.