Absorbine® grew out of humble beginnings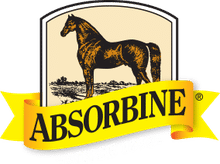 Like many significant achievements, Absorbine® grew out of humble beginnings—and through the tenacity of someone willing to question the status quo. In this case, it was a young woman in late 19th-century Massachusetts: Mary Ida Young.
In those days, if a horse developed lameness, a common treatment was "blistering" the affected leg using one or more caustic agents. The blistered skin caused increased blood flow to the treated area, speeding recovery of the injury. Mary Ida knew there had to be a better, more humane way.
In addition to caring for their horses, Mary Ida was an avid gardener and herbologist. Through her knowledge of healing herbs, she formulated a special blend of herbs and essential oils into a tincture designed to increase blood flow and speed healing—without painful burning or blistering.
Mary Ida started using her creation on their horses daily. She was so impressed with the results that she named it Absorbine® Veterinary Liniment, and her husband started carrying some on his deliveries. On one such trip to Syracuse, New York, he sold a whole case to trainers at a local race track.
Everyone loved this humane yet effective way to relieve sore joints, tendons, ligaments, and muscles. Mary Ida had indeed invented a new treatment. They named their fledgling company W. F. Young — but it has always simply been called "Absorbine" by horse owners everywhere. The exact formula remains a family secret, but the results have been trusted by riders and trainers for more than a century.
Inspired by Mary Ida's vision, Absorbine® has continued to add innovative products throughout the years — products used every day by horse owners around the world. Which is why, since 1892, they've been The Horse World's Most Trusted Name.
Come visit our animal feed & supply store in Waterloo, IA specializing in quality food and supplies for all animals.